Gold for you and your community
Become a heygold Ambassador
Buy & Sell
Easy invest!
Buy pure gold from as little as 1€ and build up your own gold treasure
Your gold - your control!
Buy, manage and sell your gold anytime and anywhere online or in the app
The gift of gold!
Easily send gold to your family and friends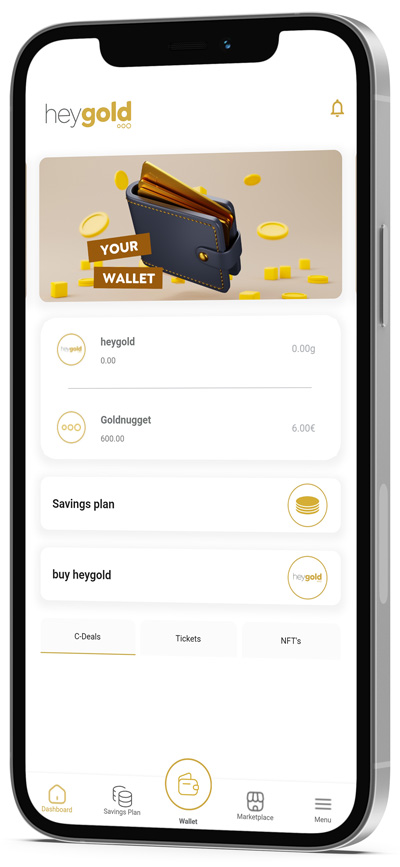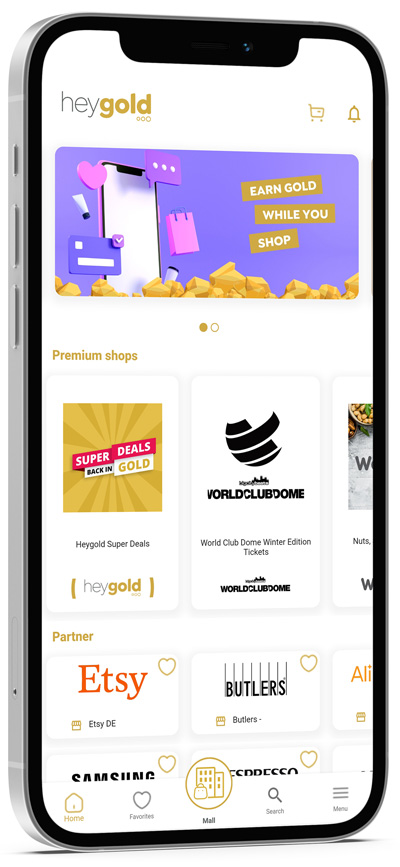 Shop & Earn
Earn pure gold!
Store online and get pure gold as "Goldback", for every order
Shop the best brands!
More than 900 partners like Samsung, Lieferando, Etsy and Disney are part of the heygold bonus world
Exclusive offers!
Let yourself be surprised by the exclusive offers of the heygold mall and collect even more Goldback
What you get!
getabonus
5€ for each active customer
We give you an instant bonus!
For every new customer you recruit and who actively uses heygold, we reward you with a direct bonus
goldenfuture
4% on heygold & 8% on gold nuggets
Recruit once, benefit permanently!
We will give you a share of the sales of the customers you refer - no matter if you buy heygold or store in the bonus world!
winwin
1% on heygold & 2% on gold nuggets
Community Booster!
If a customer you have recruited also becomes a heygold Ambassador, both of you will benefit from the new sales.
Gift your followers
thegiftofgold
300 gold nuggets
Give your followers a startup bonus in pure gold right after registration
goldboost
Double up to 10€
The Goldboost for your followers: We double the first heygold purchase of your followers
goldenshopping
30 days Super Deals
Increased cashback on established brands & exclusive offers: Open up the world of Super Deals to your followers
What's to do?
newtothecrew
Join heygold!
Register as a heygold Ambassador and familiarize yourself with the heygold world. We are at your disposal for any questions
ingoldwetrust
Explain heygold!
Create your own content and convince your community of the benefits of heygold. Show your followers how they can easily buy and sell gold online and get pure gold while shopping with heygold.
feelfree
Spread the news!
You know your followers best! Stay true to your style and decide for yourself when and how you want to draw attention to heygold.
Registration & Support
It's easy, just click on the "Join heygold" button at the top of the information page.

Our support team is available to you at any time. Simply contact support@heygold.com.

Yes, this is possible. Please contact our customer support directly: support@heygold.com

You can delete your account at any time in the user management of your heygold account. To do so, click on "My profile" or select the "Settings" section if you want to delete your account via the heygold app.

Ambassador commissions
As a heygold Ambassador, you will receive commissions on almost all sales generated by the users you refer. In detail, these are: Instant bonus For every new customer you recruit and who actively uses heygold, we will reward you with an instant bonus of 5€. A customer is considered active if he/she has invested at least 20€ in heygold or has converted 2,000 gold nuggets into heygold. Purchase of heygold If the customers you have referred buy heygold, you will receive a commission of 4% of the turnover. The commission is paid for direct purchases as well as for purchases within the savings plan. Bonus system If the customers you have referred use the heygold bonus system, you will receive a commission of 8% of the collected goldback. Of course, the users you have referred do not suffer any disadvantage! Community Booster You can collect even more commissions with the Community Booster. If the people you recruited recruit new customers (indirect recruitment), you will receive 1% of the generated heygold purchases and 2% of the collected Goldbacks. Overview of commissions: Instant bonus: 5€ per recruited active customer Commission for heygold purchases: Direct recruitment: 4% Community Booster: 1% Commission for goldback system: Direct recruitment: 8% Community Booster: 2%

Permanent! The heygold Ambassador Programme is not bound to a fixed term. Once you have directly or indirectly recruited a customer, you will permanently receive commissions from the sales generated by them. Please note, however, that if you cancel your Ambassador account, your commission entitlements will be lost.

With the exception of the instant bonus, all commissions are paid out in heygold. This happens automatically as soon as the minimum payout limit of 0.5 heygold has been reached. The conversion is done automatically at the current exchange rate. In the Ambassador administration you can see at any time how many heygold you have already earned. Did you already know? You can sell your heygold at any time and have the proceeds paid into your bank account. If you wish, we can also deliver your gold to your home in the form of bars!

No, commissions cannot expire. However, please note that you will not be able to collect any more commissions if you cancel your Ambassador account.

No, on the contrary! We regularly run promotions with our Ambassadors where the people you recruit receive increased starting bonuses or other benefits.